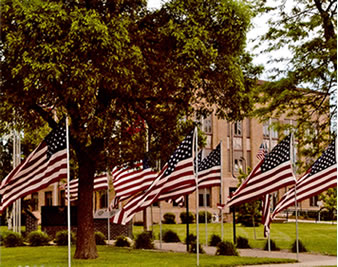 McCook County lies in the southeastern portion of the State of South Dakota along US Interstate 90 between the major South Dakota cities of Mitchell and Sioux Falls. The centrally located City of Salem is the county seat and is located at the crossroads of US Highway 81 and SD Highway 38. The county is comprised of five incorporated communities (Bridgewater, Canistota, Montrose, Salem and Spencer) and sixteen townships. McCook County has 576 square miles and the population according to the 2010 census is 5,618.
McCook County was established by the territorial legislature in 1873 and was first organized in 1878. The original county seat was located at Cameron in a small building donated by a local resident. In 1880, a countywide election moved the county seat to Bridgewater, where a small courthouse was built. However, in 1882 the residents of Salem stole the county records and safe from the Bridgewater courthouse through a door that had been left unlocked by a sympathizer and thereafter obtained the blessing of the territorial convention to their claims to be the county seat.
In 1884, the county built a small, two-room courthouse on the same site where the present courthouse is located. In 1893, that structure was enlarged into a two-story, wood-framed building with a stone foundation, brick veneer, and an ornate cupola. In the 1920's the county established a courthouse sinking fund and by 1933, when federal assistance became available, the fund contained $105,000. Sufficient signatures were obtained on petitions to allow the necessary bonding without an election but there was some difficulty in selling the bonds. Bids were received both for the brick building and one constructed of McCook County Quartzite, but the brick was found to be more economical. Construction was begun in the spring of 1934 and was completed in December of that year.
The interior features extensive marble and Art Deco elements of aluminum and chrome. The building was designed by Kings & Dixon of Mitchell and Floyd Rosser of Montrose. Kings & Dixon also designed the Aurora, Davison and Miner County Courthouses. The building was built by the Huron Construction Co. of Huron SD. The total cost on record for the 19,680 sq. ft. courthouse is $113,326.79.